For the base colors, I'm wearing LVX Callais on all of my nails except my ring finger where I have China Glaze Flip Flop Fantasy. I'm absolutely in love with Callais, it is such a gorgeous shade of blue!
The
studs
are 4mm square gold studs from
BornPrettyStore.com
!
These studs are really cute and fun to play with even though I do feel they're too big for my small nails.
I love the gold color of them, I haven't found any that are chipped or scraped in any way.
I will say that due to their size, they were extremely easy to apply and reuse! If you have small nails like me, these
may
not be the best for you. However, they do seem the perfect size to do artsy things with!
You can purchase these 4mm square gold studs
here
for $5.84! As usual, shipping is
free worldwide
.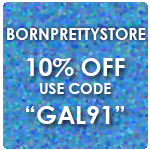 Click the image to be directed to their site!

This post contains product(s) provided to me for my honest review.